Should I Get a Home Inspection?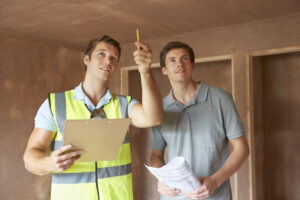 Both first time homeowners and families upgrading to a home that meets their family's growing needs often ask REALTOR® Louise Suchanek if they should require a home inspection when submitting an offer to purchase a new home. Louise's answer is emphatically, "Yes!"
Why You Should Always Get a Home Inspection
While California requires sellers to disclose certain information about their property before they list it on the market, the items that must be shared are limited. Additionally, sometimes homeowners have issues with systems or appliances in their home that they aren't even aware of when they list their property for sale!
Louise Suchanek always encourages her home buyers to submit offers that are pending inspection. Then, typically within 10 days after a purchase agreement is signed, buyers have the opportunity to hire their own qualified home inspector to look in every nook and cranny of the property they're purchasing to check for any deficiencies that the sellers didn't disclose or even know about when they listed the home for sale.
If issues are discovered during inspection, your REALTOR® Louise Suchanek, can either write up a response to the inspection asking the seller to either fix any uncovered issues before closing by a licensed contractor, reduce the purchase price of the house so you can make repairs after closing, or even cancel the purchase agreement without penalty and with you having your earnest deposit fully refunded.
You Should Still Get a Home Inspection Even if You're Buying a Home Being Sold "As Is"
Sometimes, such as in the case of short sales or foreclosures, homes are being sold "As Is." This means the seller – which may be the current homeowner or in the case of a foreclosure, the bank – are telling prospective buyers upfront that they won't be paying to repair any issues found during a home inspection.
Even if you know the seller of the property you want to purchase won't pay for fixes, you should still get a home inspection. After all, you wouldn't drive a car without taking it for a test drive, would you? You should never purchase a home without having a qualified home inspector giving you a detailed report of the state of the home so you can decide if you want to proceed with the purchase or not.
What Type of Issues Are Commonly Uncovered During a Home Inspection?
Having served as a REALTOR® in Los Angeles and San Bernardino counties for years, Louis Suchanek has seen all sorts of potentially expensive issues identified by a home inspector during a home inspection. These include:
Leaky roofs or roofs that are in need of repairs or total replacement
Problems with the electrical system
Issues with the plumbing and sewage system
Heating and air conditioning issues, which may include an A/C system that is very old and in need of replacement, or suspected microbial growth in the house's ductwork which may even be toxic mold
Previous termite damage or current presence of termites
Problems with major appliances, including the water heater, stove, and oven
If You're Thinking of Buying a Home, Contact Louise Suchanek Today
Whether you're trying to determine what area of Los Angeles or San Bernardino counties you want to purchase in, are determining your budget, or are ready to start a home search, Louise Suchanek can help. Contact her today at (909) 730-1152 to schedule an appointment to meet her in person, discuss your family's needs, and your must-haves for your new dream home.